Plasmatool Handheld Device
Surface optimizing prior to gluing or printing is important. The plasmatool makes chemical primers or mechanical treatments unnecessary. Improved wettability and adhesive force can be achieved at components, which cannot be handled automatically due to size or mobility. The plasmatool is supplied by a single 230 V power source. An integrated air compressor supplies the plasma generator.
It can be used everywhere thanks to the trolley design. Two-handed operation and a signal lamp protect and warn the operators and third parties. The handling of the plasmatool is optimized for easy usage and maximum operator´s safety. No external gas supply has to be present. A completely autonomous air supply is integrated inside the device. The operator is independent of any compressed air supply.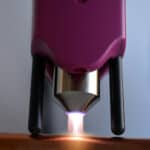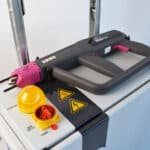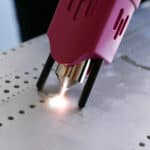 Field of application
Railway construction
Aircraft / caravan construction
Treatment of very large components
Automotive
Handcraft
Possible applications

Removal of rust
Pre-treatment prior to the painting or varnishing process
Paint removal during repairs
Plasmaactivation
Plasmacleaning
Restoration
Maintenaince
Interior constructions
Advantages
No size limitation of the parts to be treated
High mobility
Different processes / substrates / geometries
No PLC necessary
Stand-Alone unit, no compressed air or mass flow control required
Single person handling thanks to trolley design
Two-handed operation and signal lamp for advanced safety
Robust and easy to use
Only power outlet needed
Technical Information
Electrical connection 220 – 240 V AC, 50 – 60 Hz
Max. input current 6 A
Power consumption 1.300 W
Weight approx. 60 kg.
Plasma temperature

 

few hundred – few thousand degrees
Typical treatment distance

 

5 – 20mm
Typical treatment width

 

10 – 25mm
Measurements 800 mm x 540 mm x 430 mm
Sound pressure level <60 dB (A) at a distance of 1 meter
This item is available in the stock and also available for rental
Contact us at sales@nanovactech.com for pricing and further information