DFP8140 Fully Automatic Polisher
Dry polisher for Φ8-inch wafers with chemical free stress relief
Φ200 mm
1 axis, 1 chuck table
Wafer Thinning
Stress Releaf
Improved yield for thin wafers
This dry polisher can remove grinding damage layer on the backsides of wafers up to Φ8 inches without slurry. This process greatly reduces wafer breakage and warpage and improves die strength and product yield. In addition, it contributes to reducing environmental impact.
In-line system
DFP8140's design allows it to be integrated or retrofitted with DISCO grinders. Safer wafer transferring can be achieved when installed inline with DFG8540 (option).
---
Environmentally friendly process
The dry polishing process does not require chemical processing through wet etching or CMP. Dry polishing with DFP8140 is environmentally friendly while maintaining a lower cost of ownership than other stress relief processes.
Easy operation
Installation of a touch screen and GUI (Graphical User Interface) provides improved operability. In addition, processing and equipment status are displayed on-screen and each operation can be performed just by touching the icons. Thus, high operability during processing and maintenance is achieved.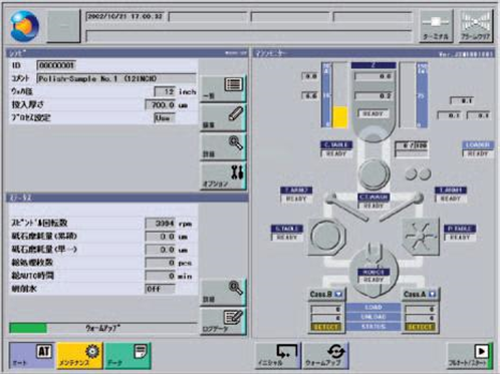 ---
Specifications
Specification
Unit
DFP8140
Supported workpiece size
-
Φ4/5/6/8 inch(Select one size)
Polishing Method
-
Anomalous In-feed grinding with wafer rotation
Wheel
-
Φ300 mm Dry Polishing Wheel
Chuck table type
-
Porous chuck table
Chuck-method
-
Vacuum
Number of revolutions
min‐1
0 ~ 300
Chuck table cleaning
-
Water & air thrust up, Leveling stone and brush cleaning
Spindle
Rated output
kW
4.8
Rotation speed range
min‐1
1,000 ~ 4,000
Internal load sensor
-
Thin force sensor
Spinner unit
-
Wafer washing and drying by atomizing nozzle
Equipment dimensions (W×D×H)
mm
1,200 × 2,670 × 1,800
Equipment weight
kg
Approx.1,900
*Product appearance, features, specifications, and other details may change due to technical modifications.
*Please read the standard specification sheet thoroughly before use.