DFD6340 Fully Automatic Dicing Saw
Standard dual spindle dicing saw
Φ200 mm
Facing dual spindle
DBG
Package Singulation
Maximized throughput
The DFD6340 features a facing dual-spindle configuration with a shorter distance between blades, which improves throughput by up to 30 % for step/bevel cut and 40 % for dual cut when compared with parallel dual spindle dicing saws.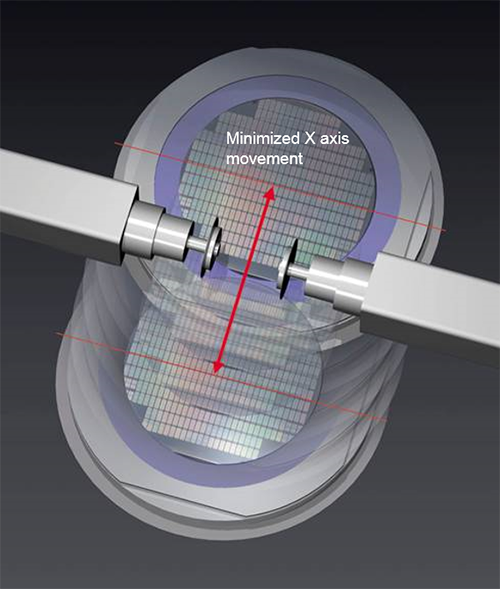 Small footprint
By employing a new high-rigidity, bridge-type frame structure, the DFD6340 has the smallest footprint of any 8" saw in its class.
Lower air and energy consumption
Utilizing the latest in conservation technology, the energy and air consumption of the DFD6340 has been reduced by 33 % and 24 % respectively when compared to the previous generation of saws.
Consistent cut quality
The DFD6340 offers consistent cut quality with the adoption of a Synchro Spindle™ featuring superior radial rigidity. An atomizing nozzle cleaning mechanism can also be included in the spinner unit as an option to effectively clean wafers after dicing (Patent no. 3410385).
---
Shorter set up time - two NCS*
 

sensors

Two Non-Contact Setup sensors, one each for Z1 & Z2, enables increased throughput.

*optional function 

 
Shorter kerf check time - two microscopes*
A dedicated high-magnification microscope for each spindle allows for simultaneous kerf checking for increased throughput.
*optional function
Process stability - cutting water flow control
Cutting water flow rate can be set in the device data. In addition, water flow rate is monitored during processing, making it possible to ensure a constant and stable flow rate.
Easy operation
The DFD6340 utilizes an adjustable LCD touch screen graphical user interface making operation and maintenance intuitive and easy. The inclusion of an inspection stage allows for the removal and checking of wafers after dicing during fully automatic operation.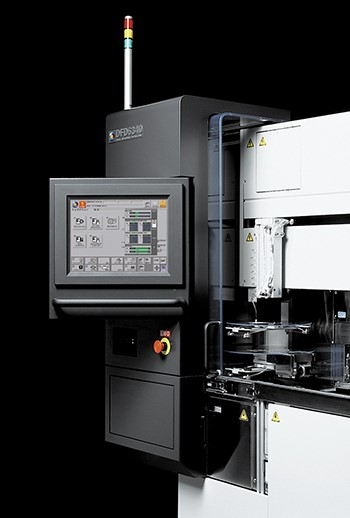 DFD6340 Operation flow
Lower arm moves the workpiece from the cassette to the pre-alignment stage. Lower arm moves the workpiece to the chuck table →

 

cutting

 

→

Upper arm moves the workpiece to the spinner table →

 

cleaning & drying

 

→

Lower arm returns the workpiece to the cassette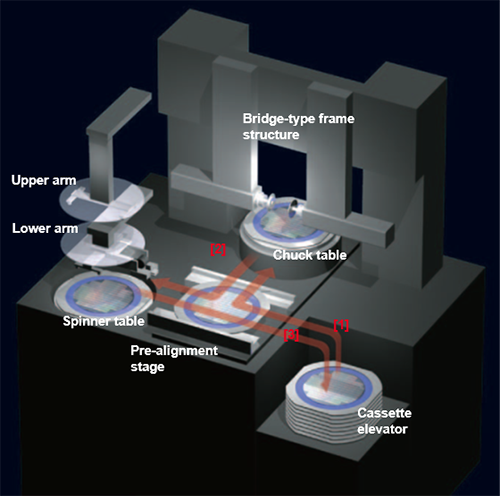 ---
Specifications
Specification
Unit
1.2, 1.8 kW
2.2 kW
Max. workpiece size
-
Φ8 inch
X-axis
Cutting range
mm
210
Cutting speed
mm/s
0.1 ~ 600
Y1・Y2-axis
Cutting range
mm
210
Index step
mm
0.0001
Positioning accuracy
mm
Within 0.002/210
(Single error) Within 0.002/5
Z-axis
Max. stroke
mm
19.22 (For Φ2 inch blade)
19.9 (For Φ3 inch blade)
Moving resolution
mm
0.00005
Repeatability accuracy
mm
0.001
θ-axis
Max. rotating angle
deg
380
Spindle
Rated torque
N・m
0.19(1.2 kW)
0.29(1.8 kW)
0.7
Rotation speed range
min‐1
6,000 ~ 60,000
3,000 ~ 30,000
Equipment dimensions(W×D×H)
mm
1,180 × 1,110 × 1,850
Equipment weight
kg
Approx. 1,600
*Product appearance, features, specifications, and other details may change due to technical modifications.
*Please read the standard specification sheet thoroughly before use.