DFD6240 Fully Automatic Dicing Saw
Among the World's Smallest Single Spindle Dicing Saws
Factory-friendly design
By optimizing the frame structure and handling section layout, the footprint is on par with that of DISCO's semi-automatic unit (DAD3350), even though it is equipped with all the functions of a fully automatic unit (size reduced by about 20% from the DFD641). The equipment is designed to reduce energy and air consumption, contributing to lower operation costs and environmental impact. In addition, the condition monitor relays the processing status and key equipment information in real time for use in periodic inspections and process management.
Improved cut quality
DFD6240 offers highly consistent and dependable cut quality through the new Synchro Spindle™ for superior radial rigidity. The cutting water flow rate controller, programmable via the touch-panel display, sets the flow rate for each process recipe. Atomizing nozzle technology (option, patented in the USA, Japan, and other countries) is available for the wheel cover, where it effectively reduces particle adhesion, and the spinner cleaning unit, where it yields exceptionally clean wafers after dicing.
---
Improved usability
Spindle shaft-lock feature and auto-open/close wheel cover (accessible from the equipment front) make blade replacement quick and easy. In addition, operation is simplified through adoption of the LCD touch panel and GUI (Graphical User Interface).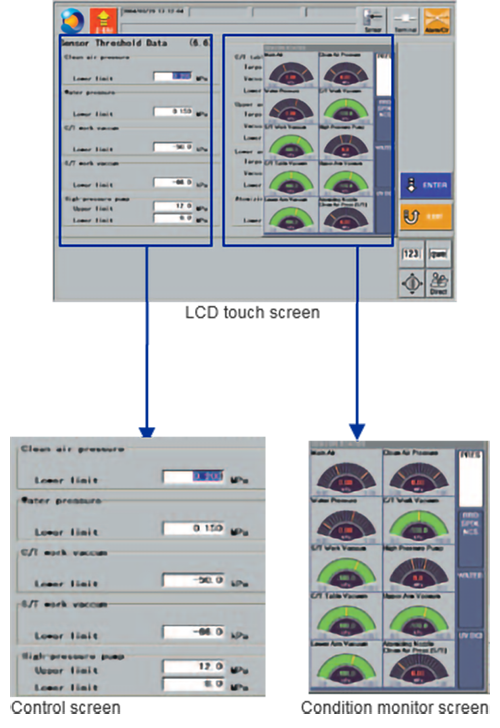 Higher throughput
Increased speed ranges and return speeds for the equipment axes contributes to improved dicing throughput.
Spindle Lineup
A 1.2 kW high-rigidity spindle is installed as a standard specification. In addition, the adoption of center thrust design makes it possible to support workpieces with high processing loads, including glass, ceramics, and other materials, using the 1.8 kW (option, compatible with 2" blades) or 2.2 kW spindle (option, compatible with 3" blades) with improved rigidity.
DFD6240 Operation flow
Lower arm moves the workpiece from cassette to the pre-alignment stage. Lower arm moves the workpiece to the chuck table →

 

dicing

 

→

Upper arm moves the workpiece to the spinner table →

 

cleaning and drying

 

→

Lower arm returns the workpiece to cassette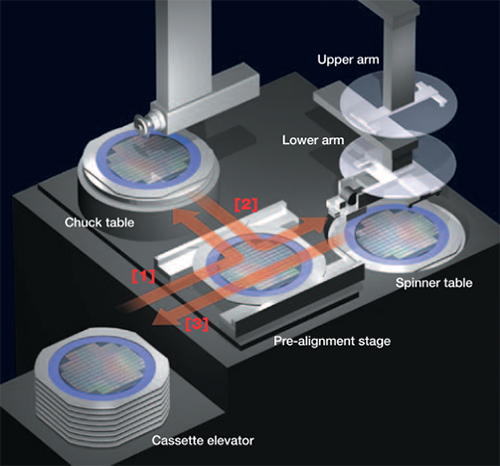 ---
Specifications
Specification
Unit
1.2, 1.8 kW
2.2 kW
Max. workpiece size
-
Φ8 inch
X-axis
Cutting range
mm
210
Cutting speed
mm/s
0.1 ~ 600
Y-axis
Cutting range
mm
210
Index step
mm
0.0001
Positioning accuracy
mm
Within 0.003/210
(Single error) Within 0.002/5
Z-axis
Max. stroke
mm
19.22 (For Φ2 inch blade)
19.9 (For Φ3 inch blade)
Moving resolution
mm
0.00005
Repeatability accuracy
mm
0.001
θ-axis
Max. rotating angle
deg
380
Spindle
Rated torque
N・m
0.19(1.2 kW)
0.29(1.8 kW)
0.7
Rotation speed range
min‐1
6,000 ~ 60,000
3,000 ~ 30,000
Equipment dimensions(W×D×H)
mm
900 × 1,190 × 1,800
Equipment weight
kg
Approx. 1,200
*Product appearance, features, specifications, and other details may change due to technical modifications.
*Please read the standard specification sheet thoroughly before use.