DAG810 Automatic Surface Grinder
Automatic grinder to respond to new processing needs
Φ200 mm
1 axis, 1 chuck table
Simple and compact single-axis grinder
The DAG810 is a compact, automatic grinder for workpieces up to 8" in diameter. It has one spindle and one chuck table and is designed to process a variety of materials.
Space-saving design
Equipment dimensions: 600 (W) x 1,700 (D) x 1,780 (H) mm
Precision grinding
Adoption of high-rigidity, low-vibration spindle provides superior grinding results and is capable of in-feed grinding and creep feed grinding (user-specified specification).
Unlimited materials
Process hard or brittle substrates of various diameters with ease. The DAG810 is also the choice for processing a wide variety of electronic components.
---
Easy operation
Installation of a touch screen and GUI (Graphical User Interface) provides improved operability. In addition, processing and equipment status are displayed on-screen and each operation can be performed just by touching the icons.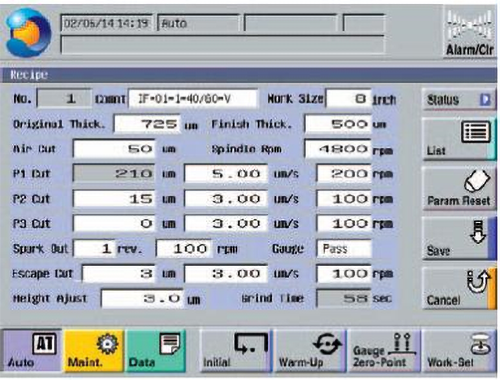 Special options for a variety of needs
Height gauge
One or two-probe height gauge (option)
In-feed grinding
Workpieces up to Φ300 mm (option)
Frame grinding
 8" frame grinding (option)
Creep-feed grinding
Workpieces up to Φ200 mm (user-specified spec.)
High-precision applications
Processes silicon and compound semiconductors for analysis.
Grinds resin for CSP and WL-CSP
Improves the planarity of lithium tantalate and lithium niobate
Processes green ceramics and sapphire
---
Specifications
Specification
Unit
Supported workpiece size
-
Φ8 inch
(Φ4, 5, 6, 8 inch with universal chuck table use)
Grinding Method
-
Anomalous In-feed grinding with wafer rotation
Grinding Wheels
-
Φ200 mm Diamond Wheel
Spindle
Rated output
kW
4.2
Rated torque
N・m
5.9
Rotation speed range
min‐1
1,000 ~ 7,000
Equipment dimensions (W × D × H)
mm
600 × 1,700 × 1,780
Equipment weight
kg
Approx.1,300
*Product appearance, features, specifications, and other details may change due to technical modifications.
*Please read the standard specification sheet thoroughly before use.