DAD3350 Automatic Dicing Saw
Flexibility for diverse processing needs
Supports a wide range of applications
DAD3350 is capable of handling a maximum of Φ8-inch or 250 x 250 mm workpieces (user-specified specification). A 1.8 kW spindle is equipped as standard. By selecting a 2.2 kW high-torque spindle (optional), it is possible to process silicon up to difficult-to-process materials, such as ceramic. Support for blades of up to Φ5 inches is possible with user-specified specifications. In addition, the alignment function for multiple-mounted workpieces can also be added as an option.
Improved throughput
The DAD3350 achieves improvement in throughput by increasing the speed of each axis.
Ease of use
Operability is improved with installation of an LCD touch screen and Graphical User Interface (GUI). Easy operation is achieved with a visual display showing processing conditions and various statuses with icon buttons. In addition, operation commonalities were considered in order to achieve easy replacement from the 300/500 series (existing models).
Process quality
By adopting a high-rigidity bridge-type frame and a spindle front-section support structure, which prevents heat shrinkage and vibration, a more stable processing point can be achieved.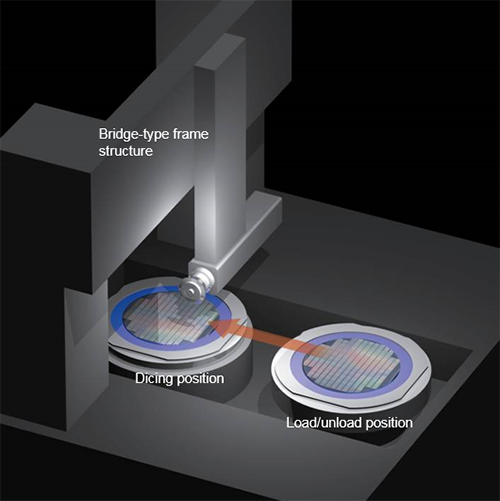 ---
Process controls
Auto alignment, auto focus, auto kerf check, and other image recognition functions have been installed to improve equipment productivity. In addition, the microscope includes an air blow mechanism and a lens shutter to prevent contamination. As an option, a low magnification microscope can be added for rough alignment. Through condition monitoring the processing conditions and various other statuses can be known at any given time. Advanced process control features can be added as options, including an on-screen cutting water management system for cutting water flow control.
---
Specifications
Specification
Unit
1.8 kW
2.2 kW
Max. workpiece size
-
Φ8 inch (250 mm × 250 mm, Φ300 mm user-specified specification)
X-axis
Cutting range
mm
260
Cutting speed
mm/s
0.1 ~ 600
Y-axis
Cutting range
mm
260
Index step
mm
0.0001
Index positioning accuracy
mm
0.002/260
(Single error) 0.002/5
Z-axis
Max. stroke
mm
32.2
31.4
Moving resolution
mm
0.00005
Repeatability accuracy
mm
0.001
θ-axis
Max. rotating angle
deg
380
Spindle
Rated torque
N・m
0.29
0.70
Rotation speed range
min‐1
6,000 ~ 60,000
3,000 ~ 30,000
Equipment dimensions(W×D×H)
mm
900 × 1,050 × 1,800
Equipment weight
kg
Approx. 1,200
*Product appearance, features, specifications, and other details may change due to technical modifications.
*Please read the standard specification sheet thoroughly before use.